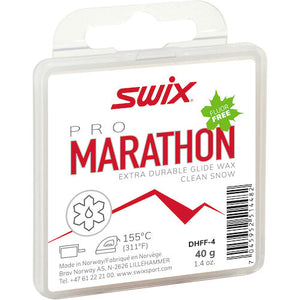 SWIX PURE MARATHON WHITE 40g
Regular price $85.00 Sale
A hard and extra durable glide wax for long distance racing. 
Developed especially for longer distances in newer and clean snow.
Great in warmer conditions, but often competitive also in colder weather.
Waxing Instructions 
The speed of the iron should be approx. 8-10 sec. on a skating ski. The wax can be re-heated after cooling to room temperature (10 min) for better durability. Scraping after approx. one minute. Important to have a good iron to get an efficient melting of the wax. Marathon waxes can be used as a race wax alone or as a base for powders and other top coats Recommended iron temp: 155°C (311°F).
40g.